Safe, Structured and Supportive care for each individual allows their spouse, family, or caregivers to attend to other parts of their lives with the comfort of knowing their loved one is having activities and meals in a safe, friendly and structured environment. A Day Place

offers activity, social engagement and healthy nutrition through out the day.
Staff greet each member as they arrive. Activities are designed to engage and stimulate participation.
No one goes hungry. We provide a light breakfast, hearty lunch, as well as a light mid afternoon snack. Ice cream socials are a regular occurance.
We make sure your family member is safe and supported as they have a day full of interaction.The care-recipient would receive supervision and possibly some limited care while the caregiver would have a break from the routine of daily caregiving. This could give the caregiver needed time for herself and some peace and quiet to relieve the stress of caregiving. The care center might also offer transportation at an additional cost to transport the loved one to and from the center.
Physical Motion and Strengthening

Strengthening and Yoga


Dancing

Walks around the building and in the Park

Chair Bowling and

Bocce

Ball

Pool


Mental Engagement and Activity

Keeping our minds busy and active as well as stimulating memory and laughter is vital

Crosswords, Word search puzzle, Crafts, Painting

Cards, Trivia, Puzzles

Music, Singing, Stories and Sharing

Entertainment and Field Trips

A variety of entertainers come in to provide music and dance programs to engage our members . Field trips also provide a variety of experience and a chance to be in a different environment for a bit of time.

Piano Players and Singers

Dance

troupes



Trips to Senior Center to see programs or films or to a local restaurant for lunch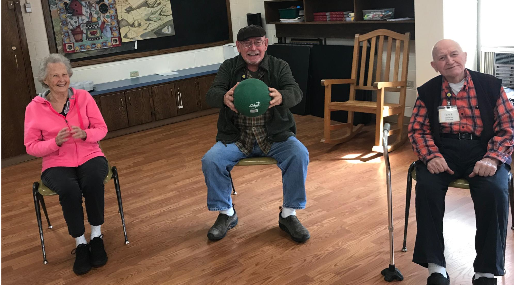 Staying physically strong and mobile is essential to remaining safe and able to take care of your self and your personal needs.